Wow, this stuff is good.  I made some pumpkin cookies and doubled the recipe but forgot to double the sugar!!  So instead of trying to make a frosting and icing each one (major pain in the butt), I just made this caramel dip for each person to put on their own cookie and wow, is it delicious.  This recipe is adapted from allrecipes.com.  This would also be amazing with apple slices.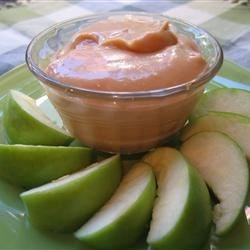 20 individually wrapped caramels
1/4 cup water
1 (8-oz) pkg cream cheese
1/2 cup brown sugar
Melt caramels with water in microwave.   Stir to make sure there are no chunks.  Whip cream cheese with brown sugar in separate bowl.  Stir cream cheese mixture with caramels, and voila, deliciousness.