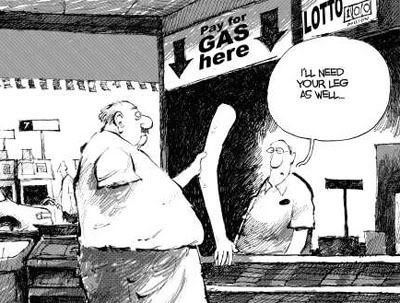 OK, check out this quote that I read in the paper last week regarding gas prices when they were higher. "
When you have to go to work, you have to go to work. When you have to take your kids places, you take them places. You do what you have to do to cut back in other places
." This is all well and good, except that the lady who said it was driving a
2008 Toyota Highlander (the non-hybrid)!!!
Are you kidding me?!?! Most people who complain about gas prices had a choice when they bought their vehicle. If they chose a gas-guzzler - too bad. Especially a 2008 model gas-guzzler. That means she even bought it when the prices were sky high. If this lady could truly afford a Highlander, she probably didn't have to cut back like she said, and if she couldn't afford it, she shouldn't have bought it in the first place.
Only under 3 circumstances do gas price complaints seem legitimate to me.
1 - People who truly cannot afford gas and/or a family member or friend gave them a ridiculously good price on a less efficient car.
2 - People who need a larger vehicle for work reasons.
3 - People who have more than 3 kids.
And there is my rant about gasoline. That's why I have a Hess credit card which gives me a 5% discount and drive a Corolla and bought a house 3 miles from work!! I am just as happy as anyone that the prices are starting to drop, but these decisions have helped the fluctuations not have such a huge impact. You can leave a mean comment if I've stepped on your toes because I probably have, but I just think that we as Americans have some serious entitlement issues. And don't tell me I will buy a bigger vehicle when I have kids because I won't. We never had a mini-van or SUV growing up and we managed fine. Maybe we should just be thankful for what we have. Gas prices in Amsterdam hit over $10/gallon this year, and many developed countries still pay over $5/gallon on a regular basis. And don't tell me to go live there (Aaron, because that's what you would tell me) because I'm not the one complaining.